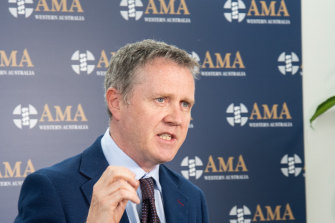 Health authorities are conducting genomic testing of the virus that infected a security guard working at the Four Points by Sheraton quarantine hotel in the Perth CBD earlier this week.
WA Premier Mark McGowan said on Sunday there was a high chance the security guard had either of the COVID-19 variants because three returned travellers staying at the Four Points were infected with them.
Dr Miller continued his criticism of WA's 'amateur' hotel quarantine system, which he said did not learn lessons from outbreaks in other states where issues arose with air conditioning and staff working second jobs.
"It was quite predictable and we have the benefit sitting here of seeing what's happened in other states with hotel quarantine and we can see the terrible problems that are breaking around the world at the moment and we have no scientific reason to think we are different to anyone else," he said.
"I'm afraid the government have just dropped the ball in term of the preparations needed here.
"WA is starting to look like a bit of an arrogant team who are in the lead at three quarter time and now we're getting a bit of a kicking."
Dr Miller called for immediate changes to improve quarantine facilities and beef up protocols.
"We shouldn't have other guests in there, we shouldn't have functions, bars, restaurants and people coming from other locations," he said.
"Just convert them to proper quarantine facilities and change the air conditioning so you're flushing the air through and give everyone a gas mask and we could avoid the expense, the inconvenience, the political pain."