Isolation won't be a problem for Melbourne University arts student Sobur Dhieu during Victoria's snap lockdown, but finding a quiet place and even the uninterrupted use of her own computer might be.
Ms Dhieu, 20, lives in Brookfield with her mum, dad and eight siblings, six of whom are school students ranging from twins in prep to a brother in year 12.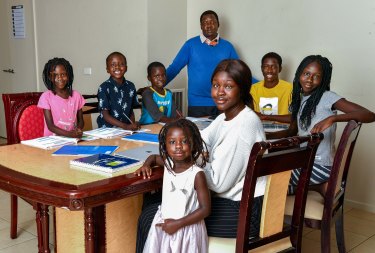 It's noisy, crowded and chaotic, but the family was "trying to make the best of it" as they began an unexpected week stuck at home together, including renewing their 2020 lockdown ritual of a Friday night family movie night, she said.
"I just think they are getting on. My siblings are happy to be at home not having to go to class today but I think they do understand it's going to be hard next week."
The large family, who moved to Australia to escape civil war in South Sudan almost 20 years ago, had it drummed into them by their parents that education was the way to a better life than the one they fled, Ms Dhieu said.
But last year's extended lockdown took a toll on some of the Dhieu children. Their education suffered in a home that had neither enough space nor sufficient digital devices for everyone to learn.
In the mornings, when her siblings spread their books out over the dining table, Ms Dhieu helped her younger brother, who was struggling in remote learning, by logging on to his classes on her laptop.
"It was really hard, I would be sitting there from 8.30am until 5.30pm most days with him, just because it took so long to go through the content, and he really needed his teacher and was dependent on that external support to make sure that he could concentrate and stay on top of things," Ms Dhieu said.
Read the full story here.