UN Secretary-General Antonio Guterres told the UN Security Council on Sunday that the Israel-Palestine hostilities, which have escalated dramatically over the past week, were "utterly appalling" and called for an immediate ceasefire.
Opening the 15-member council's first public meeting on the conflict, Guterres said the United Nations was actively working towards a ceasefire and called on both sides to allow mediation talks.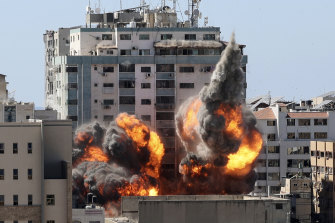 But Israeli Prime Minister Benjamin Netanyahu said on Sunday that Israeli air strikes on Gaza City, which started on May 14, were continuing at "full force". At least 42 people were killed on Sunday, medics said.
Peter Greste, founding director and spokesman for the Alliance for Journalists' Freedom, writes that "on Saturday, an Israeli air strike destroyed an 11-storey apartment building used by local and international media companies, including the Associated Press (AP) news agency and Al Jazeera, my former employer".
"It followed similar strikes on Tuesday and Wednesday targeting high-rise residential buildings that foreign and local journalists also used as offices," he says.
The Associated Press' top editor wants an independent investigation into the bombing of the building that was home to her news organisation and Al Jazeera.
World editor Michelle Griffin joined Nathanael Cooper last week on our podcast, Please Explain, to discuss the growing tensions in the volatile region.