"I've asked [Victorian health authorities] to go through an urgent process of reviewing what happened in this particular tragic set of circumstances and to ensure that those tragic circumstances are never repeated."
The sparring comes as the state government braces for the release of new quarterly data showing ambulance response times have worsened to levels unseen since 2015.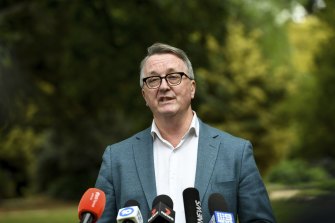 The data, expected to be released imminently, will show that in the three months to March ambulances were reaching the most serious cases within the target time at a rate in the mid-70 per cent region, about 10 percentage points lower than in 2019.
The political contest over health services has echoes of the strong campaign run by then-opposition leader Daniel Andrews against the Coalition government before the 2014 election. Mr Andrews would consistently pin responsibility on the government for specific deaths and incidents that occurred when ambulance response times blew out.
Loading
Huge demand for ambulances – caused by poor post-lockdown health and rules preventing people from seeing a GP if they have COVID-19 symptoms – are causing emergency rooms to be clogged.
In turn, this is slowing the movement of patients through the hospital system and causing ambulances to queue for hours outside emergency departments waiting for a bed to become available.
Some ambulances are then arriving late to critically ill people because too many of them are stuck waiting in hospital driveways. Other states including NSW are experiencing similar problems.
Mr Foley said the government had spent a record amount on ambulance services and had also invested in additional hospital beds and triage services.
As he listed the government's health spending, an opposition frontbencher interjected: "People are dying. It isn't working."
Mr Foley said the opposition wanted to make cuts to the public service and flagged reforms to ease the burden on the health system. "We won't be cutting services … I will concede there's always more a Labor government can do," he said.
Start your day informed
Our Morning Edition newsletter is a curated guide to the most important and interesting stories, analysis and insights. Get it delivered to your inbox.