First published in the Age on June 3, 1991
Footscray shines while Blues go to the dogs
In football, the definition of adversity is the Western Oval on a windy, wet winter's day.
David Parkin says a footballer cannot claim to have made it until he has shown the ability to overcome adversity. At Footscray yesterday, Terry Wheeler's team stepped into the ring with purpose.
Parkin's Carlton shuffled up meekly and paid the most severe price for this equivocation, a 41-point defeat in a critical game.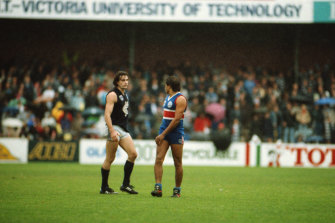 Carlton's 1.10 (16) was its lowest score since 1904 and its worst in 111 contests with Footscray since the Bulldogs joined the old VFL in 1925. The Carlton Football Club has won more VFL-AFL premierships (15) clan anyone, and never had the dubious pleasure of accepting the fabled wooden spoon, but it has had few worse days than yesterday.
Click here to read the story.