AFL 2021 LIVE updates: Carlton Blues v Fremantle Dockers; GWS Giants v Melbourne Demons
We're sorry, this service is currently unavailable. Please try again later.
Loading
Melbourne bring up the century
They raise the bat with five minutes to play through James Jordon, who converts a set shot.
Demons pulling away now after an early challenge for the Giants who are now 0-3 and need nothing short of a miracle to play finals.
GWS 61 MEL 100 in Q4
Here's the Coniglio injury from earlier
Another show of skill, tenacity and poise.
GWS 61 MEL 86 with 11 to play in Q4
Gawn gets another goal, lead now 19
As soon as the GWS cut the lead to a goal it is back out to three goals.
Too many entries for GWS to defend.
GWS 61 MEL 80
Pickett responds for the Demons
He kicks his third. Another great game for him. The GWS defence were poor there, should marked, instead the ball skims off a fist and Pickett kicks the easiest of goals.
GWS 61 MEL 74
Toby Greene has five goals!
Toby Green does it again. A poor defensive mix up seeks two Demons defenders go for the same ball.
That ends with Greene crumbing, and he snaps truly.
Alarm bells really ringing for Melbourne now.
GWS 61 MEL 67
The final term is underway in Canberra
GWS trail by 18 points with three less fit players and what a start!
They kick a goal straight from the centre bounce, Toby Greene kicking his fourth.
Melbourne not traditionally the most composed side over the last few seasons so truly anything could happen here.
GWS 55 MEL 67 with 19 to play in Q4.
Three quarter-time, Demons in control
They're in control despite the lead only being 18-points.
It doesn't seem like much, but with the Giants down De Boer, Coniglio and Davis on the bench this will be tough for them to overcome.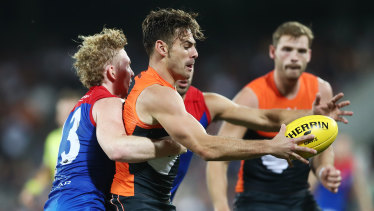 It's a game-high 17 point lead for Melbourne
That margin is brought up via goals to Max Gawn and Bailey Fritsch.
This injury crisis – Coniglio, De Boer and Davis are all done for the day – is not hurting the Giants.
They should put GWS to the sword now, Melbourne.
GWS 49 MEL 67 with five to play in Q3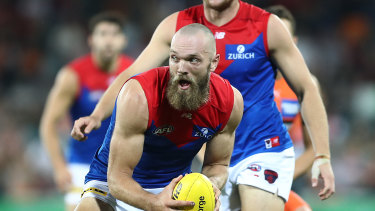 Watch and lap up this Pickett goal